Mojeek Reaches the 4 Billion Page Milestone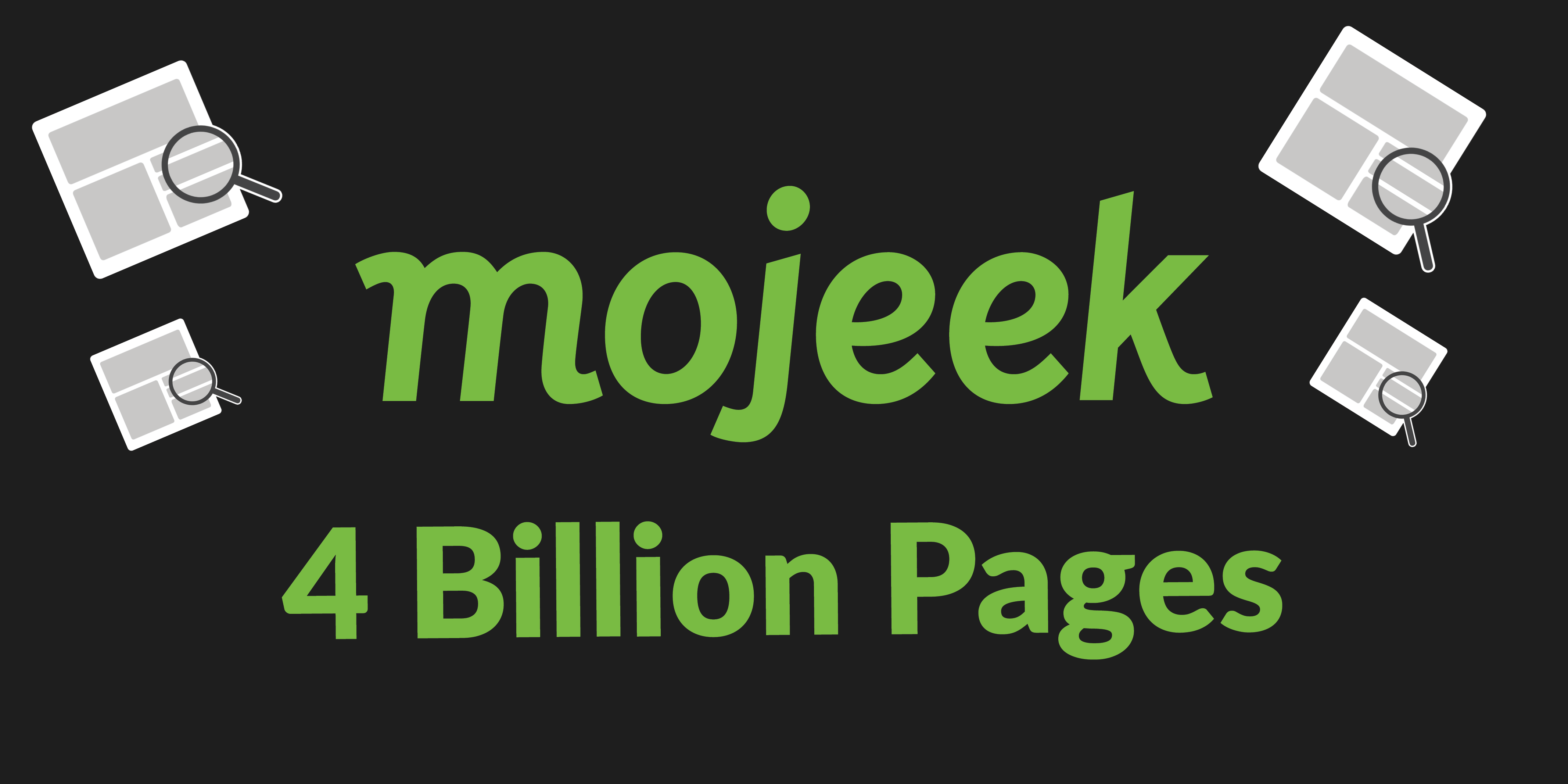 23rd December 2016: Mojeek surpasses 1.5 billion pages
12th June 2018: Mojeek surpasses 2 billion pages
25th April 2020: Mojeek surpasses 3 billion pages
25th June 2021: Mojeek surpasses 4 billion pages

At the time of writing the English-language sections of Wikipedia, the free online encyclopedia, comprise 6,322,101 pages. Wikipedia is a handy way to contextualise the Mojeek index, since it emphasizes open access to information, and because it's hard to imagine there being 4 billion of anything. With the help of this imagery we are happy to announce that Mojeek is now more than 630 English-language-Wikipedias large.
To put the size of this achievement another way, if you were to read each page at a rate of one second per page, then getting through the entirety of the Mojeek index would take you 127 years!
The index is also still growing at a rate of over 2 million pages a day and that will soon increase as we complete the installation of another 100 servers,increasing capacity by 50% over that from our last expansion in December 2019.
This milestone has also been reached by growing slowly and deliberately, efficiently putting to work investment acquired through patient privateinvestors, and without the involvement of any venture capital. To our knowledge this is one of the largest indexes of its kind, a sizeable collection of pages amassed by a search engine that does not engage in user tracking. Mojeek has been a non-tracking search engine from the start, having made a public commitment to this via our privacy policy in 2006.
Whereas other privacy-focussed search options have decided to create symbiotic relationships with Big Tech in order to completely obviate the costly and time-consuming process of actually crawling and indexing information, that's just not our style - as we've explained at length before.
The developer Tom Eastman once quipped on Twitter that he was "old enough to remember when the Internet wasn't a group of five websites, each consisting of screenshots of text from the other four." Well, we're big enough to keep alive the promise that the Internet can be more than two search engines providing results to a myriad of search services.
As we said when we passed 2 billion pages back in 2018:
We believe that when it comes to doing search the 'right' way, where the search engine is in complete control of its results, making and altering our own algorithm from scratch to display high quality and unbiased results is essential. We also believe it's critical that alternative search indexes (i.e. search engines that provide their own unique results) exist, and therefore so does our ability to choose which we use.
This belief keeps us focussed and working hard to ensure that this choice exists.
Increasing how many pages Mojeek searches is important to improving the results we return, but it's not the only way that we can look to improve your experience when using Mojeek; we are always in need of your feedback, so please let us know when you notice an area we could improve in via the Feedback button on the results page, or by using this contact form.
We very much appreciate your input.
An earlier version of this article stated that this milestone was a first for a search engine that did not engage in user tracking, it has been edited due to the possibility that Gigablast may have reached this milestone in the past.