Expanding Mojeek's Image Search with Openverse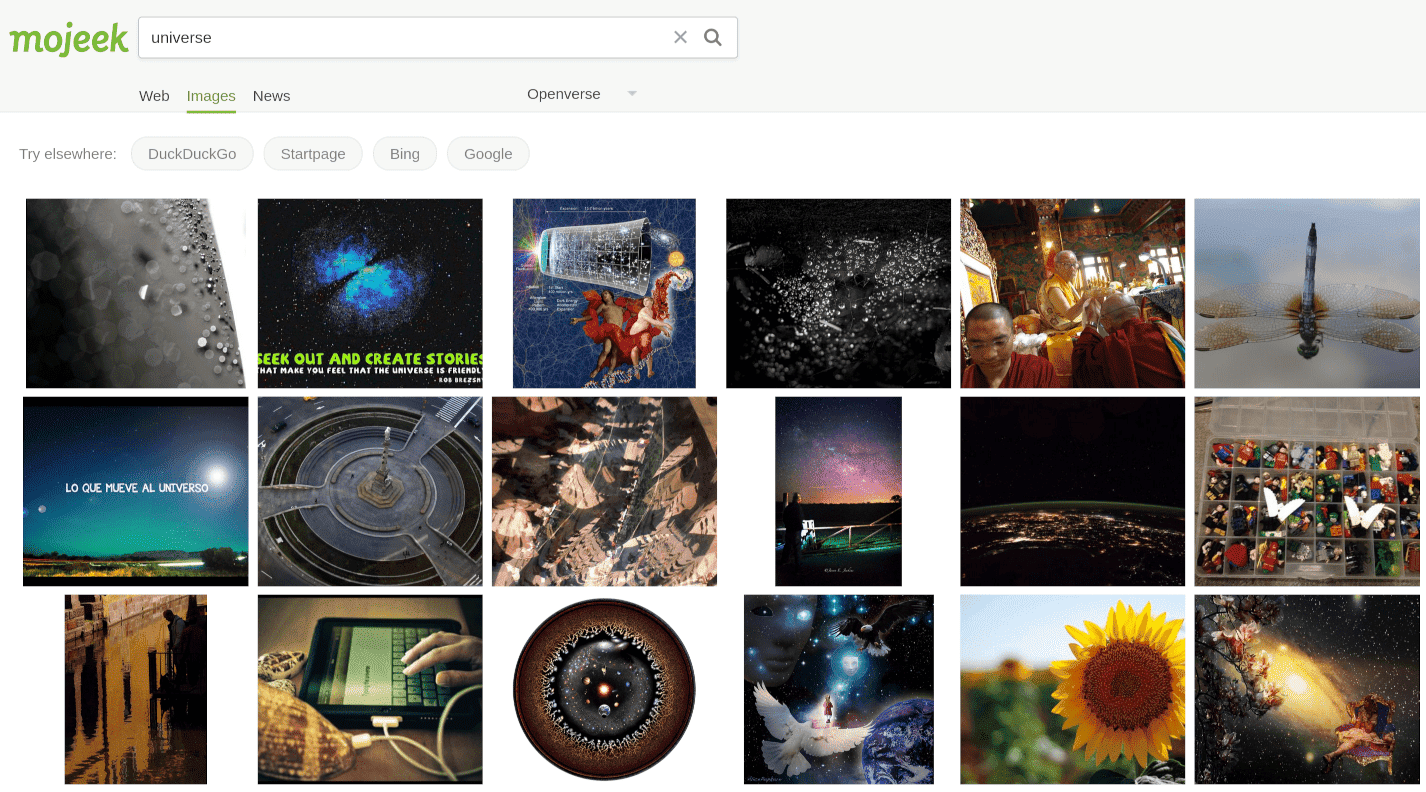 Independence from Big Tech has always been a core part of what we do, and so we are pleased to announce that today we have expanded our image search with a new source of content from independent creators and websites.
Image Search
Back in September of 2018 we announced the addition of image search functionality to Mojeek, enabling users to search the web for images using either Pixabay or Bing. We considered Pixabay to be a good fit with Mojeek from a values perspective, as a then-independent option with an API that could be added quite simply into our offering.
Pixabay's search now comprises 4 million+ royalty-free and stock images, which is a considerable database, but for deeper image searches they are not always good enough. It is for that reason that Bing was also added alongside them, though we ensured that Pixabay always took the default spot – making it so that interacting with Microsoft (although not directly, as this was always done through Mojeek) was a conscious choice made by the person doing the searching.
We have always wanted to eventually get rid of Bing. Due to both Microsoft's API pricing decisions, and informed comments by people using Mojeek to search the web, we recently took that step. For a while now we've had Pixabay as the Image Search, with these handy little Try elsewhere buttons allowing you to repeat the search on private versions of Bing and Google, or the search engines themselves.

We've now taken one more step, adding in a completely different kind of image search.
Openverse
Openverse is a search engine for openly-licensed media which gives you access to over 700 million Creative Commons licensed and public domain image and audio files. This is one place that you now can source images from if you head over to the Mojeek Image Search tab and put in a query. These images currently come from 45 different places, including Wikimedia Commons and Flickr. Providing it is for a non-commercial purpose you can use any of the images you'll find with attribution (and a fair few without). Even if the purpose is commercial, there are still a very large number of images that will likely suit your needs.
A great deal of the images which you will find here come from hobbyists and photographers, independent creators whose content can now be accessed quickly and easily through Mojeek. It's a great opportunity to engage with a different kind of image search, diving into a pool of weird and wonderful photographs and illustrations that people have dedicated to the public domain.
Pixabay
However, if the older way of doing things suits you better, Pixabay is still currently our default Image Search source. If you decide to switch out for Openverse as your default to try it out, you can easily revert this in your Preferences once you are done experimenting.

The increased size of the database this tool is pulling from, alongside wanting to offer people something a bit different, made whether or not to include Openverse an easy decision to make. If you have a suggestion for something we can change, or would like to comment on this update to Mojeek's Image Search, remember that we have the Mojeek Community and Contact Page, as well as the Submit Feedback button which sits on results pages. Your feedback is both massively valued and useful when it comes to making Mojeek better.
Finally, if you want to receive news from us in your email inbox, you can subscribe to our Newsletter.