Mojeek Updates, March 2023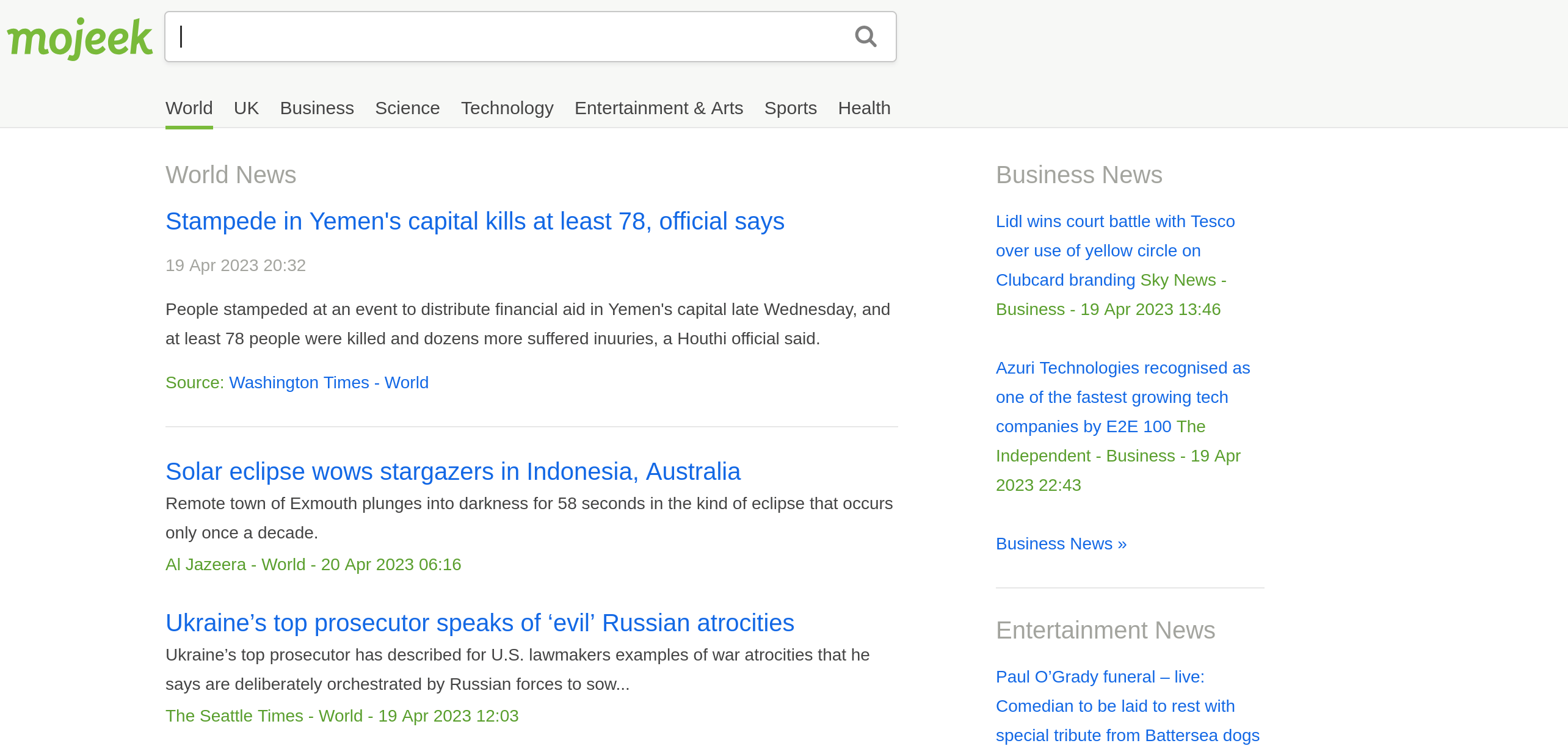 Here's a rundown of what's changed or new on Mojeek since our January update.
News
We've taken another look at News and pushed some updates to improve the stories which appear if you load that page without searching for anything. News now has clustering turned on, promoting stories which appear across a number of feeds to that page, removing duplicates. You should now see a better picture of what is currently going on in the world, allowing you to browse current events without putting in any keywords. Consider it a better news homepage, if you will, and there's still more to come on News...
Crawling/Servers
During this period we crossed the 6.8bn page mark - on 1st April - we posted about this on social media but it's good to underline that we weren't joking there, that milestone is in the bag. We also added some SSDs into the stack; if you're interested in how we manage to fit these much smaller drives into hot swap trays which are built for 1TB HDDs, you can do so on a previous post. We won't spoil too much but it involves 3D printing.
API Page
As mentioned in our recent Reasons to Use the Mojeek Search API post, we are seeing increased demand for our Web Search API. It is one of the ways in which we generate revenue to keep Mojeek up and running for web users. Due to this, we've made some amendments to the product page which outline why it's better than what you can get from Google or Bing. If you know anyone in the market for an independent search API which pulls from an index of near 7 billion pages, why not send it their way?
Press Page
We previously had Signal, Element (Matrix), and Telegram as possible contact options for any journalists who wanted to securely get in touch in order to get a quote or just ask questions about the world of search. We decided that Session Messenger is better suited to this task than Telegram. If you wanted some of the reasons for this decision, packaged in a more entertaining manner than text on a page, we'd suggest checking out Naomi Brockwell's video on the subject.
If you have a suggestion for something we can change, remember that we have the Mojeek Community, Contact Page, Evaluation Page, and the Submit Feedback button which sits on search engine results pages. Your feedback is both massively valued and useful when it comes to making Mojeek better. Finally, if you want to receive news from us in your email inbox, you can subscribe to our Newsletter.