Mojeek and /e/OS, Full Stack Mobile Independence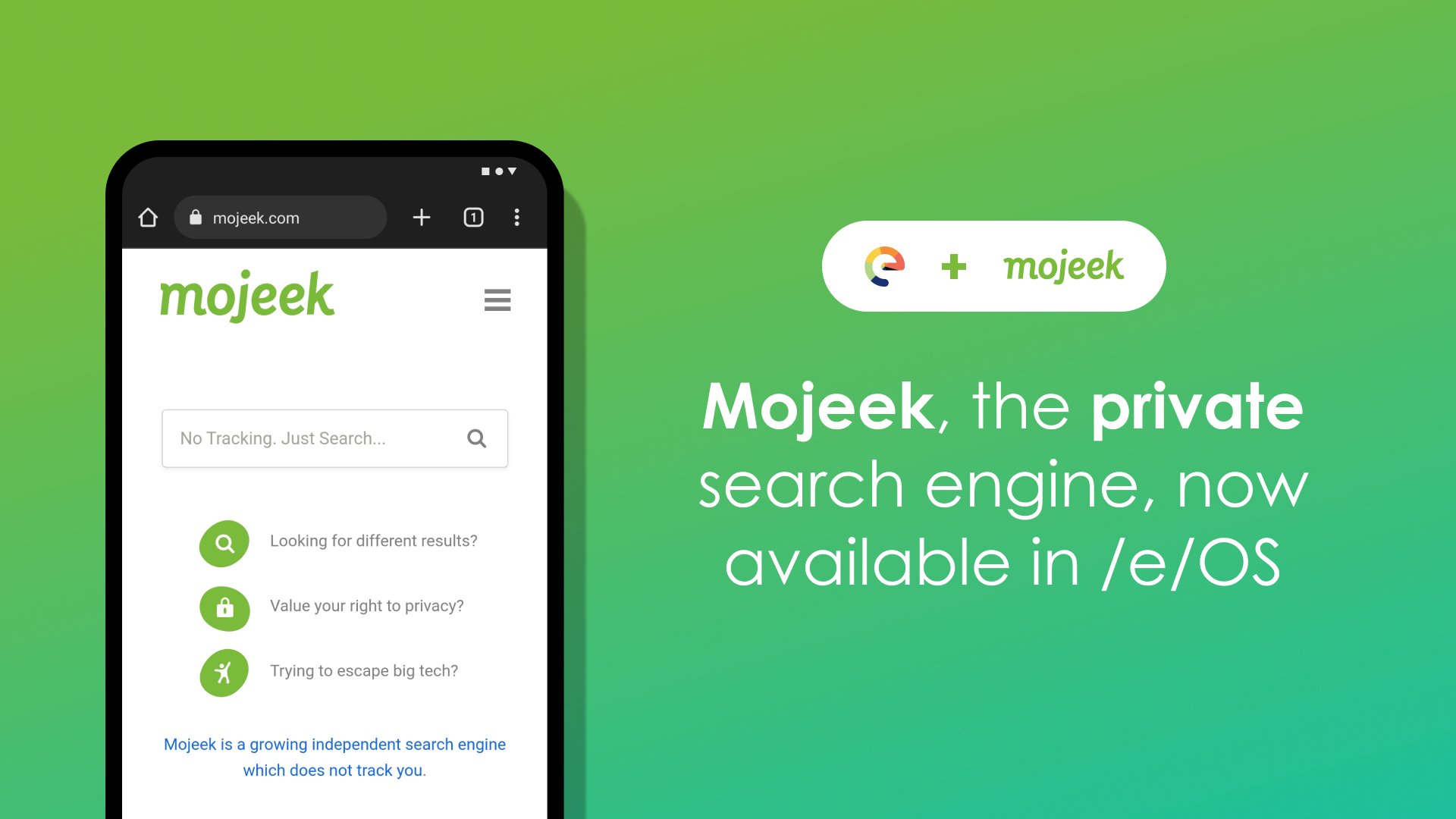 The latest release of /e/OS adds Mojeek as a search option, giving you an even more accessible and comprehensive way to get away from Big Tech.
Google and Apple together have a commanding duopoly when it comes to mobile operating systems, with Android accounting for 70% of mobile devices and iOS appearing on 28%. This means that 98% of all smartphone user activity is constrained by the design decisions of these two big companies; whether you choose red or blue, you are subject to their decisions and policies. It's a pathway designed to steer you away from using alternatives outside of the operating system itself.
On iOS? Your phone comes with Safari, and if you choose to use that then your choice of search engine(s) is severely limited.
On Android? Your phone likely comes with a home screen Google Search bar, pushing you from the first time you unlock the phone towards their results pages.
You are also closely tied into what they choose to do in the future. If an app is removed from the Play Store, (or App Store) such as in the case of Element messenger back in January of 2021, that is a decision which could affect your ability to bring more of your friends into your preferred communications ecosystem. It's hard enough to convince people to change tools as it is, but getting them to sideload an app in order to get around a Big Tech block would pose another, bigger, issue.
But 70+28 is 98, not 100, and so there is some room in the market for those of us looking to escape the overreach of Silicon Valley.
/e/OS
/e/OS is the brainchild of French tech entrepreneur, Gaël Duval, formerly the creator of Mandrake Linux (which eventually became Mandriva). This well-maintained LineageOS fork seeks to provide people with a pro-privacy option which can be, at the time of writing, installed on more than 200 different devices.
Don't want to go through the process of changing operating system on your device? No problem, their trading arm, Murena, sells smartphones which run their software out of the box. This includes their own model, the Murena One, and phones by the anti e-waste electronics manufacturer, Fairphone, which offers an environmentally-friendly smartphone alternative.
/e/OS has also been built so as to remove proprietary Google apps and/or services, leveraging MicroG and offering up a challenge to any technologists to "find any parts of the system or default applications that are still leaking data to Google." Their App Lounge offers a way of getting all the privacy apps you need; messengers, VPN apps, browsers, and more, whilst also giving each one a Privacy Score, which is "automatically computed from permissions and trackers that are detected in applications." This operating system gives you functionality alongside an education in how modern apps and systems seek to harvest and pass on your data.
Mojeek on /e/OS
With the latest update to /e/OS 1.8, Mojeek can now be found in the list of search options in the /e/OS Browser app. Individuals with smartphones running /e/OS can change to Mojeek as their default search engine by clicking on the 3 dots in the top-right corner and then navigating to Settings > Search engine.
As both of us are working on human-centric independent technology products, the Mojeek Team and that of /e/OS are excited about the ways in which this combination can enable those looking to leave the surveillance-heavy walled gardens of Silicon Valley behind. This release for the first time combines a web search engine and operating system which are both truly privacy-first products with no dependencies on or partnerships with Big Tech.